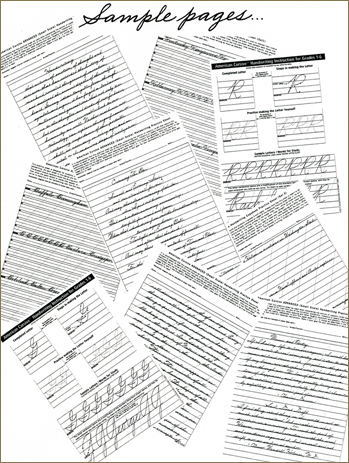 AMERICAN CURSIVE HANDWRITING SPECIAL HANDBOUND EDITION!
by Michael Sull with Debra Sull

We have exciting news! Michael Sull's newest book, American Cursive Handwriting (349 pages) isn ow available! This much anticipated text is the most thorough single volume workbook and curriculum on traditional cursive penmanship to be published during the pat fifty years! This book is designed for primary-grade students as well as adults. To learn more and to download and order form, CLICK HERE.

The Collector's Edition of American Cursive Handwriting is a unique publishing event in the Lettering Arts genre. (The trade editions of this text will be available in a 3-hole punched and spiral-bound, soft cover format). The Collector's Edition will feature a dark burgundy leatherette book cloth and gold foil stamping on the cover and spine. Each copy will be personally signed by Michael and Debra Sull. The total press run is limited to 250 copies.
To all of our collegues, friends and students that have pre-ordered the American Cursive Collector's Edition, we thank all of you for your patience as we go through the final printing and binding process that will ensure this book's success.

The Special hardcover hand-bound Collector's Edition is available for pre-order at a special pre-publication price of $150. This offer is good until the trade publications are published. Click here to download an order form to order any of the editions of American Cursive Handwriting.

This Significant Work Features:
Historical background on American Cursive
Detailed information on the essential subjects of: the nature of handwriting - the distinctly human form of personal communication; writing position, posture, a person¡¯s Writing Zone, paper movement, recommended sizes of writing
A thorough Lesson Plan to guide the reader in a straightforward, step-by-step fashion to improve their own skill in handwriting
Traditional Movement and Cross-Drill exercise sheets with instructions for daily use
Over 200 copybook sheets in the time-tested method of practice, boasting more than 500 model lines of writing and 2,000 blank lines for student use
Detailed pages on letter and number construction
Specially designed practice sheets featuring a progressive format of guidelines to focus the student¡¯s efforts from basic letter size, height, spacing and slant to spontaneous writing upon a single baseline
Chapter of selected quotations, poems, excerpts from literature and Scripture for further practice
Comments on the tools of writing, with special information on the use of fountain pens
Elements of Correspondence and the techniques of how to write a personal letter
Ten most important rules of handwriting
Sources for supplies and additional information
Blank guidesheets in all formats presented for the readers¡¯ use.
Why is This Publication Special?
Written by Master Penman Michael Sull with the assistance of Debra Sull, American Cursive Handwriting brings back the traditional methods of learning how to write beautiful cursive penmanship as it was taught for over 60 years. As America¡¯s foremost living Spencerian penman, author of Spencerian Script and Ornamental Penmanship and Learning to Write Spencerian Script, and publisher of numerous educational materials on vintage American handwriting, Michael Sull is recognized internationally as a leader in handwriting instruction. He is the corporate Master Penman for the Zaner Bloser Company, America's foremost publisher of handwriting materials for primary education.

For over 30 years he has conducted countless handwriting programs in the United States and abroad. Widely known for his skill and teaching ability, he shares his knowledge and experience in a personal way throughout this text. His unique perspective, as a veteran penman and penmanship instructor, brings this subject to the reader in an easy-to-understand, practical manner. In page after page, he re-acquaints us with the traditional practice of study and exercise without contemporary letter modifications, calligraphic trends in style or short cuts.

We hope that you will consider adding this special volume to your personal libary. We encourage you to reserve your copy and send in your order as soon as possible. A confirmation will be sent to each person upont the receipt of their order. Click here to download an order form to order any of the editions of American Cursive Handwriting.

If you have any immediate questions, please feel free to email or call us at the studio (913.362.7864).

BACK TO HOME



For more information and to inquire about studio work contact us at The Lettering Design Group

Michael Sull or Deb Sull
5830 Nall, Suite 2
Mission, KS 66202
(913) 362-7864
Studio Hours are from 9:30 to 6:30 CST
The Spencerian Saga celebrates its 25th Anniversary,
CLICK HERE
.
For information about the 2011 Traditional Spencerian Saga,
CLICK HERE
.
For information about the 2011 Engrossing Spencerian Saga,
CLICK HERE
.
For information about the 2011 Advanced Spencerian Saga,
CLICK HERE
.
To download our 2011 product catalog,
CLICK HERE
.
For information on American Cursive Handwriting
,
CLICK HERE
.